Singing Lessons - Love to sing!
"I can not say enough good things about voicewize. (My daughter's) ability and confidence has grown a lot and singing will forever be a part of her life. I highly recommend it." - D. Hazell

No experience required. I enjoy working with all levels of singers who are passionate about their voice - beginner through professional.


Lessons for Young Children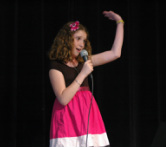 I have the specialized knowledge and experience required to accommodate the special training needs of young children. I focus on building vocal skills as well as musicianship to promote both a love of music and skillful singing for a lifetime of enjoyment.

---
Injured Singers

Returning to singing after a vocal injury is an uncertain time for a performer.

As a voice rehabilitation professional, I have the knowledge and expertise to help you transition from voice therapy back to the lesson environment as you begin to sing again.



Lesson Rates

$35 per 1/2 hour


Beginners and young children often do well with a 1/2 hour lesson, but active professional or avocational singers and those considering studying singing in college benefit most from 1 hour lessons


I am happy to advise you as to whether a 1/2 hour or 1 hour lesson format is best for you or your child.