Singing Lessons - Love to sing!
"I can not say enough good things about voicewize. (My daughter's) ability and confidence has grown a lot and singing will forever be a part of her life. I highly recommend it." - D. Hazell

No experience requiredWe enjoy working with all levels of singers who are passionate about their voice - beginner through professional.


Lessons for Young Children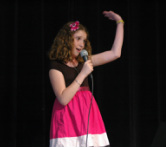 We have the knowledge and experience required to accommodate the special training needs of young children. We focus on building vocal skills as well as musicianship to promote a love of music for a lifetime of enjoyment.

---
Injured Singers

Returning to singing after a vocal injury is an uncertain time for a performer.

Voicewize's experience in specialized voice rehabilitation gives us unique expertise in helping you to rebuild your voice as you begin to sing again.

If you are currently experiencing voice trouble, consider our

Voice Therapy

services.

Lesson Rates