Teaching Staff
Rachel Rynick - Singing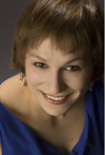 Mezzo-soprano Rachel Rynick began studying music as a child, taking recorder lessons, piano lessons, and performing with various choruses. While earning her B.A. in Education and Music at Swarthmore College, Rachel fell in love with classical singing through her voice studies with Julian Rodescu, Debra Scurto-Davis, and Clara Rottsolk, as well as joining a pop a cappella group and continuing her piano studies. After graduating, Rachel began to pursue singing more seriously, putting on several solo recitals consisting of not only classical repertoire but also jazz, pop, and folk. In 2011, Rachel earned her Master of Music degree in vocal performance at the Longy School of Music, studying with renowned soprano Anna Gabrieli, and has since continued to broaden and deepen her understanding of healthy voice use and genuine musical expression across genres, studying pop and rock vocal technique with Voicewize's own Barbara Wilson Arboleda, jazz piano, voice and theory with Vanessa Morris, and attending trainings in Somatic Voicework (the LoVetri Method) and Estill Voice Training. Rachel is a member of the National Association of Teachers of Singing, and is passionate about helping people develop the healthy tools and musical awareness they need to best express the music that speaks to them.

---
Dan Pope - Guitar
A graduate of the Berklee School of Music, Dan has performed and taught a variety of guitar styles including blues, soul, jazz, funk and rock. He has studied both classical and rock guitar techniques and is committed to ensuring that each student develops musicality skill while applying them to various types of songs. Dan has performed with bands, such as The Electric Soul, and worked extensively as a session player for recording artists. One of hiis favorites of these projects was the CD "Braille Rocks", which raised awareness of this form of communication for the blind. Dan has also developed specialized teaching skills at the Mass Hospital School, where he teaches guitar to a variety of students with physical and communication challenges.

---
Melissa Shofield, MS CCC-SLP - Reading/Writing Tutor

Melissa graduated from the MGH Institute of Health professions in 2005, with a Master of Science in speech-language pathology. Since then, she has worked in a variety of school settings including both charter and public schools.
Melissa currently works with highly medically involved children at the Franciscan Hospital for Children and shares her reading tutoring skills with Voicewize in the early evening hours.
---